YOGA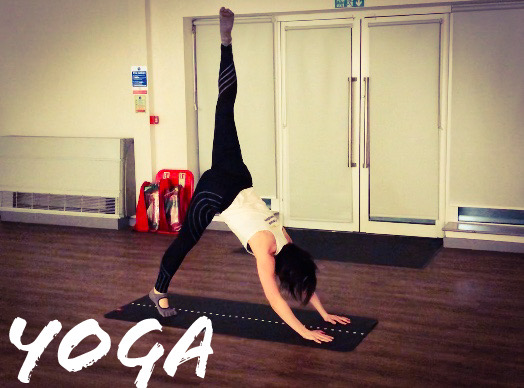 Rush Yoga aims to meet the needs of people at every ability. Each class is focused on relaxation and focusing the mind, whilst also challenging the body in movements that will stretch, strengthen and release tension. Each class provides options for all levels from Beginner to Advanced.

HATHA YOGA (Slow-flow)
'Hatha is a general category that includes most yoga styles. It is an old system that includes the practice of asanas (yoga postures) and pranayama (breathing exercises), which help bring peace to the mind and body, preparing the body for deeper spiritual practices such as meditation.'
Hatha Yoga happens at a slower pace, allowing each posture to be fully taught and accomplished before moving on. With the occasional use of equipment, each posture will be fully-achieved by each person no matter what your level of ability or experience. Hatha Yoga is a relaxing and mindful form of Yoga that builds from the basics upwards.
VINYASA YOGA (Fast-flow)
'Vinyasa is a style of yoga characterized by stringing postures together so that you move from one to another, seamlessly, using breath. Commonly referred to as "flow" yoga.'
Vinyasa Yoga is all about moving with the breath. Taken at a steady pace, a sequence of postures are put together in a fluid motion, moving on the inhales and exhales of the breath. Vinyasa is a really enjoyable form of Yoga which challenges the body and mind, whilst capturing a peaceful feeling as one posture moves gently into another. Whilst a familiarity with Yoga postures helps with Vinyasa, it is not essential as detailed instructions are given through out the class.
FAST-FLOW & HIIT
'The style is hot and energetic, synchronising breath with movements.'
Fast-flow & HIIT Yoga combines Yoga postures with higher-impact moves, such as push-ups, mountain climbers and lunges. Therefore it is more of a cardiovascular workout. Some experience of Yoga would be advised for this class.
CHAIR-BASED YOGA
'Is a gentle, low impact way to stretch and move the joints. It is effective for older adults or those who are less
mobile as the joints and muscles are exercised without strenuous activity.'
With the use of chairs and bricks, Chair Yoga is a more gentle form of Yoga where each posture is adapted for the needs of the individual. It is a class that focuses on posture, stretching and strengthening whilst putting no excess pressure on the joints and muscles. The class does not require individuals to get down on the floor or to have to do balance work. (Floor work and balancing postures would be optional if appropriate.)
e4e